Are you experiencing stress, anxiety, depression, or other mental illness or behavioral health issues? Do you struggle to balance your work life and personal life? Do you find it challenging to attend counseling sessions regularly? You are not alone. Taking care of your mental health is important, but it is not always convenient. That is why Mindflow Recovery Center is here to provide on-demand counseling in California.
With our online counseling services, you can easily access mental health support from licensed mental health therapists and mental health professionals whenever and wherever you need it. In this article, we will talk about the convenience and effectiveness of on-demand counseling in California and how it can benefit you, what mental health conditions we specialize in, and what to expect in an online therapy session.
Do I need therapy?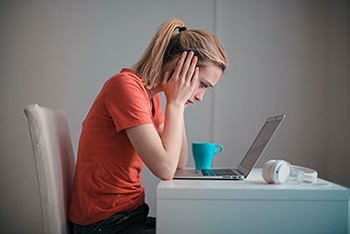 Online therapy is an exceptional tool for personal growth and development. It can provide a supportive environment where individuals can explore their thoughts, feelings, and behaviors in a safe, non-judgmental space. People can utilize online therapy to gain valuable insights about themselves, identify personal strengths and weaknesses, and work toward lifelong goals. It's also a great platform for developing coping strategies and enhancing emotional intelligence, which can contribute positively to different aspects of life, such as relationships and careers.
By using methods such as dialectical behavior therapy, cognitive behavior therapy, and humanistic psychotherapy, our clinicians are trained to help you develop the necessary skills to live a more balanced life. We specialize in treating a variety of mental health conditions, such as depression, anxiety, stress, substance abuse, self-harm behaviors, trauma, and eating disorders.
Convenient and Private Online Therapy Sessions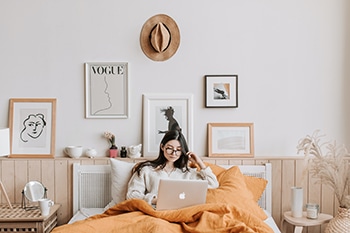 On-demand counseling, also known as teletherapy, talk therapy, or online counseling, offers a comfortable healing environment for people who want access to counseling services without traveling to an office. This service eliminates the need for losing travel time and reduces pressure for therapy sessions as you can enjoy privacy from the comfort of your home. Unlike with traditional therapy, when using an online therapist it's easier to access counseling at a time that works for you.
Affordable and Flexible Mental Health Service
Online therapy in California can save you a lot of money. With mobile and online counseling services, counseling costs are lower, thereby offering affordable services to people who may struggle with the financial aspect of receiving counseling. Besides, on-demand counseling is flexible. You can schedule and reschedule sessions with your licensed therapist to fit your busy schedules and balance your professional and personal life.
Mental Health Care, Anywhere, Anytime
On-demand counseling has revolutionized mental health care provision by breaking geographical barriers. If you, for instance, live in a remote area where there are no specialized mental health counselors, on-demand counseling can help you access therapists who specialize in the areas you need help. You can easily choose a therapist based on your language preference, mental health goals, and experience.
Medication Management Online
With the integration of medication management in online therapy, handling mental health conditions has never been this streamlined. This aspect of virtual counseling allows therapists and healthcare providers to prescribe medication, and oversee or manage your medication regimen effectively. We can monitor your progress, adjust dosages, and prescribe necessary medications – all done remotely. This is particularly beneficial for individuals on prescription drugs for mental health conditions, as it ensures medication continuity, reduces the risk of drug interactions, and tracks adherence, contributing significantly to the overall effectiveness of your treatment plan.
Effective Mental Health Services
On-demand counseling services have proven to be effective in helping with stress management, self-esteem, anger management, and relationship issues. Online therapy sessions are also an invaluable tool for treating different mental health disorders such as anxiety disorders, depression, PTSD, eating disorders, and other mental health issues. A study conducted by the University of Zurich found that online therapy is just as effective as traditional in-person therapy. On-demand counseling can increase one's access to mental health services, improve the chances of treatment engagement, and overcome barriers to accessing care.
Talk to a Mental Health Professional Today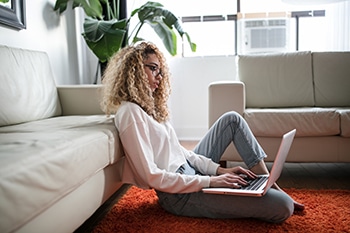 We have different types of therapists, including licensed clinical social workers (LCSW), psychologists (PhD, PsyD), licensed marriage and family therapists (MFT, LMFT), and other licensed therapists to provide the best quality on-demand counseling service in California. We strive to help you find solutions and support for your mental health issues, allowing you to create a pathway for healing and recovery.
Whatever your behavioral health needs, Mindflow Recovery provides an online therapy platform to help you get back on track in life. Contact us today and start your journey toward mental wellness with a licensed mental health professional!
Frequently Asked Questions
Can I pay for online psychiatry visits with health insurance?
Yes, you can use health insurance to pay for online psychiatry visits. Most major insurance companies, including Medicare and Medicaid, cover telemedicine services. Please check with your insurer about their specific coverage before scheduling an appointment.
What happens in an online therapy session?
In an online therapy session, your therapist will assess your current situation and provide guidance to help you find solutions. They may also discuss any mental health issues or concerns you have that might be getting in the way of your progress. Your therapist will work with you to come up with strategies and tools to help you manage stress, build healthy coping mechanisms, and make positive lifestyle changes.
How does online therapy differ from traditional therapy?
The main difference between online therapy and traditional therapy is that you can attend your counseling session without ever having to leave the comfort of your home. Traditional in-person therapy will usually involve traveling to an office for each session, while teletherapy eliminates that need. Online therapy also provides more flexibility when it comes to scheduling sessions around other activities and commitments, making it easier to access mental health care at any time. Additionally, online therapy typically offers greater privacy and convenience than traditional therapy. With teletherapy, you can have your sessions without worrying about being seen or overheard by anyone else.
Is online therapy effective?
Yes, online counseling is just as effective as in-person counseling. In fact, research supports the use of teletherapy as an effective way to help manage mental health issues. Studies have found that online therapy can be a valuable tool for treating depression, anxiety, and other mental health disorders. Additionally, online therapy makes it easier to access quality care regardless of where you live or how much time you have available.
How do I get started with online therapy?
Getting started with teletherapy is easy. All you need to do is book an appointment with a licensed therapist at Mindflow Recovery and fill out the necessary paperwork. Then, you'll be ready to start your journey toward mental wellness! With our online platform, you can connect with a counselor from anywhere in the world and have private sessions whenever it's convenient for you. So don't wait – take control of your mental health today and get started with online therapy!