So, you've decided to take the first step towards bettering your mental health – congratulations! The next step is to find a therapist that you feel comfortable with and that takes your insurance. Keep reading on as we share some helpful tips and information on how to find a therapist that takes my insurance.
Mental Health Care Is Important
It's easy to forget or put off taking care of your mental health, but it's important to make sure that you're getting the help and support that you need. Finding the right mental health professional can be an important part of taking care of your mental health. If you have insurance coverage, it's important to find a therapist or therapy service that takes your specific insurance.
Finding Mental Health Professionals
Finding a therapist that takes your insurance is one of the most important steps in getting the mental health care you need. Knowing what to look for and where to look can help make sure you find a therapist that will work best for you. Here are some tips for finding a therapist that takes your insurance:
Check With Your Insurance Company
Before looking at therapists, call your insurance company and ask which mental health services they cover in your area. This is an important step because it lets you know what type of coverage you have before searching for a therapist. Make sure to check what kind of copays or deductibles apply as well.
Research Therapists
Once you know what types of therapies are covered by your plan, start researching potential therapists online. Look at their credentials and read reviews to get an idea of the types of services they offer. You may also want to ask your doctor or friends for recommendations on good mental health professionals in your area.
Set up a Consultation
If possible, set up a consultation with a few different potential therapists before committing to one. This will allow you to discuss any questions or concerns you have about their approach and make sure you are comfortable working with them.
Have You Considered Online Therapy?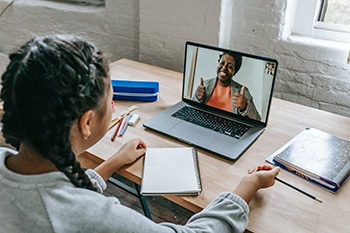 Online therapy is a convenient and affordable mental health option for many people. Online mental health services are often more convenient than in-person therapy appointments due to the fact that you can log in and communicate with mental health professionals on any device, no matter where you are.
Many licensed therapists now offer online therapy sessions that you can do from the comfort and privacy of your own home. This means you don't have to worry about scheduling or traveling to an appointment, and you can set up therapy sessions at times that work for you and your busy schedule and life.
How Online Therapy Services Work
Online therapy and mental health services work by connecting you with a licensed therapist via video chat, phone, or text messaging. You will be able to discuss your mental health needs and get help from the comfort of your own home, office, or wherever you choose. Generally, you will be able to access these online therapy platform services around the clock and can connect with available mental health professionals in minutes.
Benefits of Online Therapy
Using an online therapy provider can also help you to save money. When you see a therapist online, you don't have to pay for gas or parking, and many therapists who provide online therapy offer a sliding scale or lower rates than in-person counselors.
Telehealth service offers anonymity and flexibility that can be difficult to find in a traditional private practice setting. If you're not comfortable talking about your issues with a therapist face-to-face or you want to keep your identity private, online therapists are a great option. You can take comfort in knowing that all of your conversations with your therapist are protected by HIPAA regulations and other legal safeguards.
Overall, using an online therapy service is a great way to get the help you need without having to leave your home or rearrange your schedule. With its convenience, affordability, and anonymity, telehealth services are becoming increasingly popular among people of all ages looking for convenient counseling solutions.
Online Mental Health Services That Accept Insurance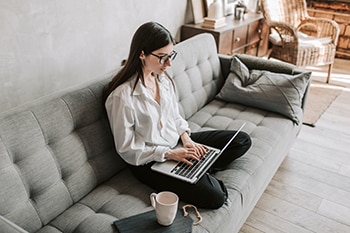 Some mental health services, such as those provided by Mindflow Recovery, accept insurance. These online therapy services often offer counseling sessions via video chat or phone call. If you are uncomfortable with in-person therapy, an online therapy platform might be a good option for you.
Over the years online therapy providers have become increasingly popular, because of this, many of these services are now covered by health insurance, so you don't have to pay out-of-pocket for your mental health needs.
So if you're considering online therapy, seize the opportunity and take control of your mental health today! Call 833-957-2690 to get started.
What Services Does Mindflow Recovery Offer?
Mindflow Recovery offers a range of online mental health services including individual therapy, couples counseling, teen therapy, family therapy, psychiatric assessments, and medication management.
We provide evidence-based treatments for those suffering from mental illness such as depression, anxiety, traumatic stress disorder, substance abuse, and more. Our team of experienced therapists is available to offer customized solutions tailored to your unique needs no matter where you are.
Our services also include virtual sessions and telemedicine appointments, so we can ensure that you get the help you need without having to worry about transportation or scheduling conflicts. Our telehealth providers are committed to providing high-quality care from the comfort of your own home. So don't wait any longer, contact us today!
Remember to Take Care of Yourself
Above all, remember to take time for yourself and your own mental health needs. Make sure you're getting enough sleep, eating a balanced diet, exercising regularly, and taking time to relax and participate in activities that bring you joy. All of these things are important for maintaining good mental health.
Good luck in your search for a therapist who is the right fit for you! With some research and effort, you can find someone who will be a great support system as you work through any struggles or challenges. Taking care of your mental health is an important part of living well – so don't be afraid to make it a priority! Get in touch with us today at 833-957-2690.
Frequently Asked Questions
How do I know if my insurance will cover online therapy?
The best way to know if your health insurance will cover online therapy is by checking with your insurance provider (you can find their contact information in the back of your insurance card). You may also be able to find out this information through their website or customer service line. Keep in mind that many providers have different policies on what they will and won't cover, so it's worth doing some research before making a decision.
What do I do if I'm having a mental health crisis?
If you're in crisis or having suicidal thoughts, we ask that you please call the National Suicide Prevention Lifeline at 1-800-273-TALK (1-800-273-8255). It's a free and confidential service that can provide you with 24/7 support from trained mental health professionals. You may also want to contact your primary care physician or local emergency services for additional help in managing the crisis.
How do I find providers that accept my Medicaid insurance plan?
You can always contact your state Medicaid office and ask if they would assist you in finding a therapy provider – either online or in your local area – who accepts your Medicaid health insurance plan.
How much does online therapy cost?
The exact cost of online therapy will depend on your insurance coverage and the specific service provided. We recommend that you contact your insurance provider or speak with a representative from our team to discuss pricing options. We also offer financial assistance for those who qualify. Contact us today to learn more about our services and how we can help you find the right fit.