Are you experiencing relationship distress with your romantic partner or romantic partners? Do you feel like you've reached the breaking point? If so, you're not alone, many couples feel the same way at some point in their relationship, but that doesn't mean it needs to stay that way. That's where couples therapy comes in.
Couples therapy may be the perfect way to identify and support a healthy relationship. Relationship therapy is a type of psychotherapy that helps partners work through their relationship issues and improve their relationship dynamics.
In short: couples therapy is a form of psychotherapy that aims to improve communication and strengthen the relationship between two people in a committed romantic relationship.
Research shows that couples counseling can be an effective way to address relationship issues, improve communication, and enhance satisfaction in a relationship. The goal of relationship counseling is not just to identify the source of problems but also to help both parties in the relationship understand their own behavior and how it affects their partner and life.
What is Couples Counseling or Therapy?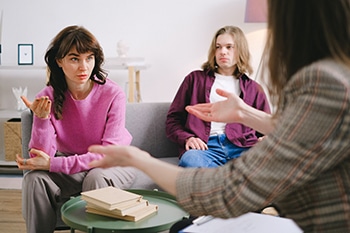 Couples counseling is a type of therapy that helps couples of all types (even non-traditional relationships) recognize and resolve relationship issues, improve their mental health, and create healthy relationships, all while in a supportive environment with a counselor or therapist who cares about their relationship.
During the therapy sessions, both partners are encouraged to share their perspectives and feelings openly and honestly in a safe space, while the couples therapist listens without judgment and facilitates improving communication skills between them. The counselor or therapist may also offer suggestions for improving the relationship, such as setting boundaries or working on conflict resolution techniques.
Couples counseling can allow couples to build a stronger connection, work through difficult times and relationship issues, and ultimately enrich their relationship. Additionally, this type of relationship therapy can help couples determine if they should stay together or separate in an amicable way.
How Does Relationship Counseling Work?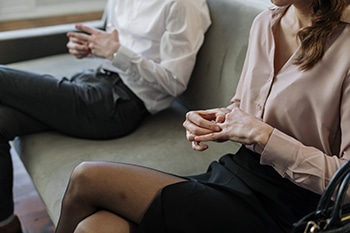 Typically, a couples therapist will focus on learning about both partners' perspectives to create an understanding of how each partner is feeling and contributing to the current state of their relationship.
It's not just about resolving specific problems but also exploring underlying issues, learning how to communicate effectively, working to gain insight into possible intimacy or sex issues, working through anxiety or trauma, learning how to manage anger, and helping to develop an overall understanding of the relationship.
In some cases, couples counseling can even help married couples to reignite their spark and deepen the bond between them. If your relationship could use a boost, couples counseling may be the right step to take.
At Mindflow Recovery you'll find qualified couples therapists who are devoted to helping you and your partner improve your relationship and overall mental health. Our relationship therapists provide a safe and respectful environment for both partners to express their thoughts and feelings without judgment.
Who Can Benefit From Premarital Counseling?
Premarital counseling is an excellent opportunity for couples who are preparing to get married and want to make sure they're in a healthy relationship with their romantic partner.
It's also a great way for those considering marriage to get more insight into how compatible they are and what challenges may arise throughout the relationship all while being in a safe environment with qualified couples counselors.
How Much Does Couples Therapy Cost?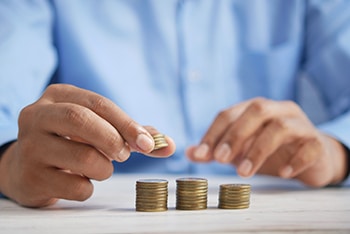 The cost of couples therapy, relationship counseling, and marriage therapy varies depending on the experience and expertise of the therapist and the duration of each session.
Generally, couples can expect to pay anywhere from $50-$250 per hour for a licensed couples therapist or counselor. Insurance plans may cover part or all of the costs associated with therapy. If a couple's insurance plan does not cover couples therapy, they may be able to get lower rates or sliding-scale fees to make it more affordable.
Additionally, some couples may choose to use online counseling services like those offered by Mindflow Recovery. These options can be more affordable and offer increased flexibility regarding the time and location of sessions.
Online Couples Therapy & Marriage Counseling Services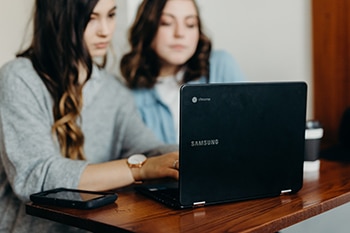 At Mindflow Recovery we believe in taking a highly effective and integrative approach to therapy and mental health. That's why we offer online couples therapy and marriage counseling services, as well as individual therapy and family therapy also.
Our therapists are experienced in helping couples and individuals talk and work through a variety of relationship and intimacy issues including communication problems, infidelity, money issues, parenting disagreements and more.
We provide an open and safe environment for both individuals to express their feelings and concerns without fear of judgment. Our therapists are trained to work with both parties and help them find ways to express themselves in a constructive way, while also finding common ground and solutions that benefit the entire relationship.
For more information on our online couples counselors and other mental health services, contact a helpful representative by dialing 833-957-2690 today!
Can Marriage Counseling Stop Divorce?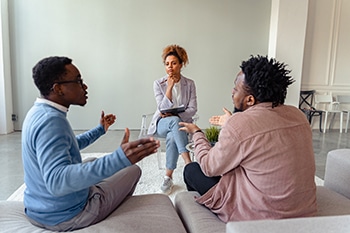 For married couples that are looking to strengthen their relationship, marriage counseling, and emotion focused therapy can be a great way to reevaluate their current dynamics and make sure that they are on the same page with one another.
Marriage counseling is also great for those who have been struggling with issues such as money management, parenting duties, or communication deficiencies. It can help each person learn how to better understand one another and create a more harmonious relationship.
In addition, marriage counseling can help couples who feel stuck in their marriage by providing insight into the underlying issues and exploring new ways of relating to one another. Emotionally focused therapy is especially beneficial for couples who have a hard time healthily expressing their emotions or getting at the root cause of recurring disagreements.
Through marriage counseling, couples can learn the skills and strategies necessary to deal with future conflicts. This includes how to communicate in a supportive way, set appropriate boundaries, practice active listening, express anger in a healthy way, and value one another's differences.
If you and your spouse are thinking of turning to marriage counseling, you're in luck. Mindflow Recovery has some of the best couples therapists in the country. Call today for a free consultation! 833-957-2690
Is Relationship Therapy Right For Us?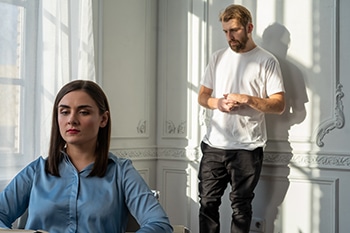 Relationship counseling is beneficial for couples who are struggling to communicate or resolve conflicts. It can help partners gain insight into the underlying issues and explore new ways of relating to one another. and heal from emotional trauma.
Emotion focused couples therapy, in particular, is especially helpful for couples who have difficulty expressing their emotions or getting at the root cause of recurrent disagreements. By discussing the current issues and working on strategies for better communication, couples can learn how to break unhealthy patterns, rebuild trust, and strengthen their emotional connection.
Marriage counseling also provides an opportunity to reassess the relationship and determine if it is worth saving or if it is time to go in separate directions.
If you think your relationship is in need of couples counseling, please reach out to the marriage counselors or couples therapists at Mindflow Recovery today. Our team of dedicated professionals is here to provide support and guidance as you take an honest look at your relationship.
Call Today To Start The Therapeutic Process!
Marriage counseling and relationship therapy are powerful tools to help couples address and heal from the underlying issues that have caused distress in their relationship. No matter if it's communication, intimacy, trust, or some other issue, couples counseling and/or individual therapy can provide an opportunity to close the emotional distance, work through these challenges, and come out on the other side feeling connected again.
Call today to speak to one of our experienced couples therapists or marriage counselors for an absolutely free consultation! 833-957-2690